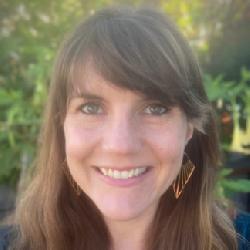 Title

Lecturer
Assistant Project Scientist

Division Social Sciences Division
Department
Affiliations Psychology Department
Email
Office Location

Social Sciences 2, Working remotely (link on syllabus)

Office Hours Summer 2023: Tuesdays 5-6 (link on syllabus)
Mail Stop Education Department
Research Interests
I research how to create and support greater equity in higher education; specifically, I'm interested in how to best support formerly incarcerated and system impacted students into and through community colleges and four year universities. My research also incorporates the study of personal, master, and counter narratives, identity (re)construction, language, and educational spaces.
Biography, Education and Training
PhD, Education
University of California, Santa Cruz, 2021
M.A., Education
University of California, Santa Cruz, 2017
M.A., English Composition
San Francisco State University, 2014
B.A., Psychology, minor Human Sexuality Studies
San Francisco State University, 2011
Selected Publications
Bunch, G.C., Endris, A., & Kenner, K.A. (2021). First Year Composition faculty in a changing community college policy landscape: Engagement, agency, and leadership in the midst of reform. In M. Siegal, & B. Gilliland. (Eds.) First-Year Composition at the community college: Empowering the teacher. Ann Arbor, MI: University of Michigan Press.
Bunch, G. C., Schlaman, H., Lang, N., & Kenner, K. (2020). "Sometimes I Do Not Understand Exactly Where the Difficulties Are for My Students": Language, Literacy, and the New Mainstream in Community Colleges. Community College Review, 48(3), 303-329.
Kenner, K.A. (2019). A community college intervention program: The affordances and challenges of an educational space of resistance. Journal of Diversity in Higher Education, doi: http://dx.doi.org.oca.ucsc.edu/10.1037/dhe0000116.
Kenner, K. (2016). Student rationale for self-placement into First-Year Composition: Decision making and Directed Self-Placement. Teaching English in the Two Year College, 43(3), 274.
Kenner, K. (2014). Building writing self-efficacy through recursive reflection: From intimidation to proficiency. In T. Hayes, A. Murphy, V. Portillo, D. Swain, C. Walker, & K. Wheat (Eds.) Manzanita 2014. (pp. 1-9). Chico, CA: English Graduate Student Council, California State University, Chico.